---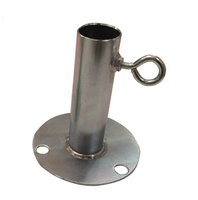 Quantities of 2 or more are discounted.
Foot Pads are made of galvanized heavy duty steel construction with welded nuts, and one eye bolt per Fitting. For temporary, semi-permanent and permanent structures, Foot Pads provide stabilization and ground anchor points for your Canopy structure. The base of each Foot Pad Fitting has four pre-drilled holes. One in the center designed for rain water drainage and three on the perimeter allowing anchor nails or hardware of your choice to secure your structure to the ground.
3/4" Fittings pair with 3/4" EMT
1" Fittings pair with 1" EMT
1-1/2" Fittings pair with 1-1/4" EMT
Canopy Fittings may vary in color being silver and/ or gold mixed due to inventory availability. 
Contact us with any questions, we'll respond PROMPTLY!
WE SHIP FAST!