---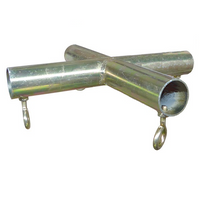 Quantities of 2 or more are discounted.
The FX Flat Cross Canopy Fitting is made of galvanized heavy duty steel construction with welded nuts, and four eye bolts per part.
3/4" Fittings pair with 3/4" EMT
1" Fittings pair with 1" EMT
Both the 3/4" and 1" Fitting are "Thru" Fittings. This means the EMT conduit can slide all the way through the Fitting in one direction as desired. 
Canopy Fittings may vary in color being silver and/ or gold mixed due to inventory availability.
Contact us with any questions, we'll respond PROMPTLY!
WE SHIP FAST!